Any large project requires expertise to ensure the end result, at minimum, meets, but hopefully exceeds the expectations of the end-user. Effective teams rely on the experience and specialty that each company or individual brings and contributes to complete the task successfully.
In 2014, Nextron was first approached by a world class, UK based, manufacturer and supplier of electrical heat tracing, asking of the company's interest in an international project which would require temperature control strategies. It was not until 2016 that the project became a reality and Nextron was invited to bid the project coordinating with the heat trace manufacturer under the guidance and specifications of a renowned international engineering firm.
Over several months of discussion and meetings involving electrical design engineering teams, certified welding fabricators, and electrical building fabricators, Nextron submitted drawings and specifications for the specially designed skid units for proposal. The design would incorporate the company's heat trace control panels with electrical distribution, power transformers, and lighting requirements all mounted and wired on galvanized skids.
After review, and some iteration, the bid was successful and the request to supply was presented to Nextron. The first of the skid units was inspected and accepted for shipment in July 2017. The last of the skid units was shipped November 2018, a total of 32 skid units.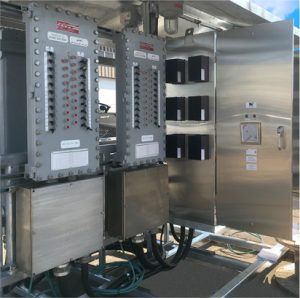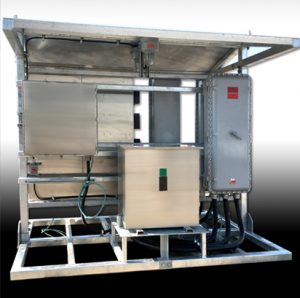 "It speaks volumes for what Nextron was able to accomplish for this project. We were excited about the project then, and are proud of the project today! - Kenny McAlister, President, RollFab Industries Ltd
These skids were destined for a world class refining mega project with a designed daily output of 400,000 barrels per day (b/d), currently at 200,000 b/d. Complete commissioning of the refinery is scheduled for the year end 2020. As the refinery is now in an advanced phase of the start-up, the first shipments are now headed for an APAC country.
Nextron thanks our engineering design team, Rollfab Industries, the steel fabricator, Redline Industrial Ltd., the electrical contract team for the skid units, and to both the heat trace group and engineering firm presenting the opportunity to Nextron to secure and deliver on this significant project.