Highly customizable – use standard configurations or choose every detail to suit your application
Designed for application environment – EHT skids can be installed in general purpose or hazardous areas
Mounted and prewired components – shipped to site complete, without requirements for additional assembly
NRTL certification – skid assembly is marked for use in environments it was designed for, no additional field inspection required
Plug and play field installation – only wire the feeder to the transformer and power to EHT junction boxes
Full MasterTrace functionality – skid packages utilize the MasterTrace product line and its range of EHT control capabilities
How Nextron Can Build Your Skid Package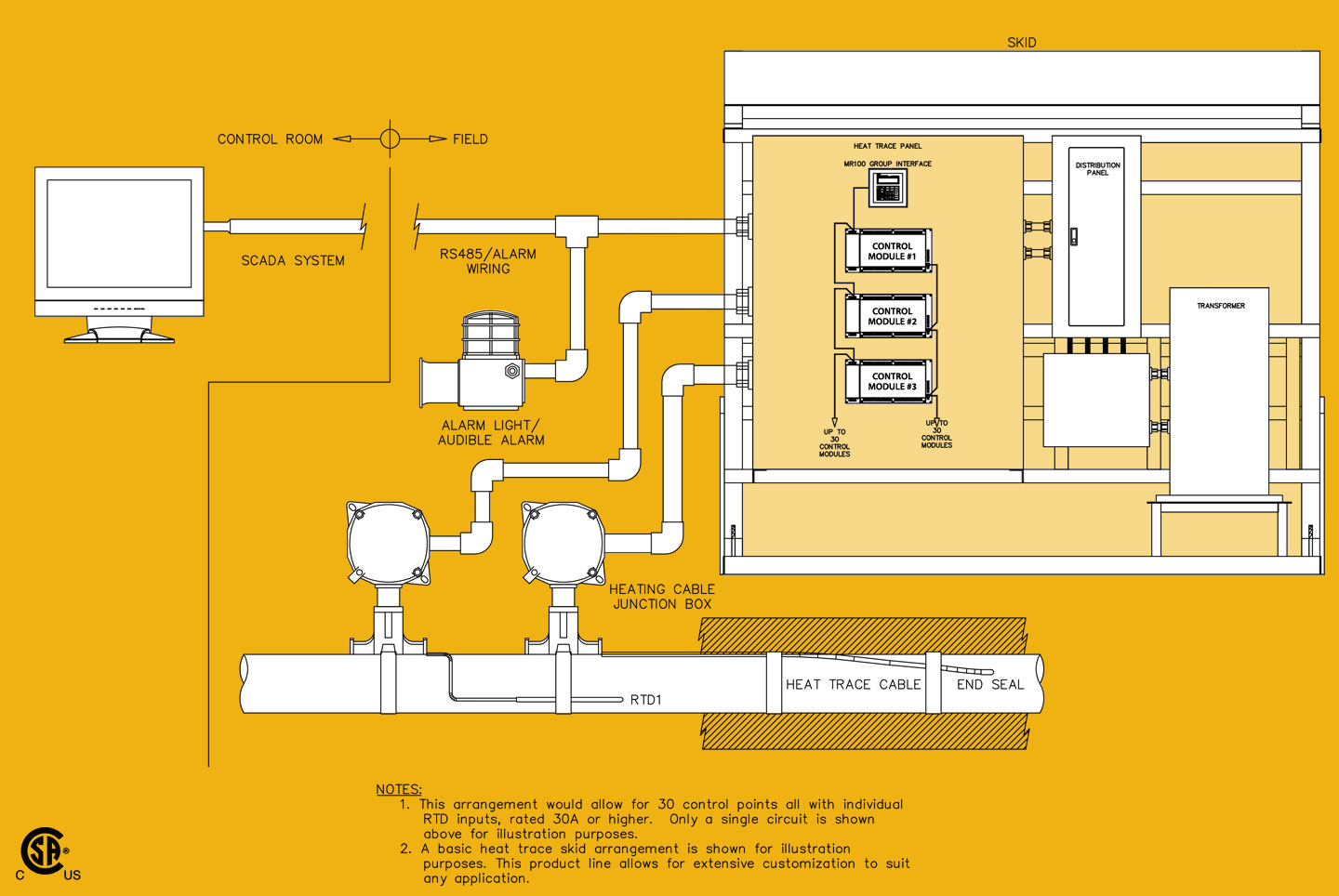 Control Room/Field
Remote configuration and monitoring with Nextron MC100 supervisory software.
Modbus Protocol
Allows easy interfacing with our MC100 software or anyone's PLC or DCS. Ethernet, BACnet and Fiber Optic communication protocols are also available.
Alarm Light/Audible Alarm
Fully configurable and flexible alarm signal to meet the demands of customers' individual design. – Alarm on, alarm off – Flash during alarm then on – Flash during alarm then off
Custom Engineered Control Panels
Designed to your specific requirements incorporate the unequaled quality and reliability of Nextron's MasterTrace control modules.
Panel Board
All power distribution designs are compatible with Nextron control and monitoring systems for electrical heat trace. Sealed breakers can be installed in IP 65 or Nema 4/4X cabinets for hazardous/classified installations. Alternatively, standard open frame main/branch breakers may be installed in IP 65 or Nema 4/4X cabinets with purge for hazardous/classified areas.
Transformers
Transformers from 15 KVA to 115KVA. Heavy duty enclosed Type 4 standard (also meets Type 12) [optional Type 4X]
Heat Trace Cable
Nextron's controllers are compatible with every type of EHT available on the market today.
RTD Temperature Sensor
3 wire RTD, 22awg, PT100 ohm, IEC571, Class A. Temperature Rating -50C to 200C. Standard lead length – 7 feet.